24 hours / 7 days Support
Natural & Herbal Products
Best Price With Guaranteed
Natural ingredients
Rauvolfia (Serpentina) ■
Lagerstroemia(Banaba) ■
Blumea(Sambong) ■
---
---
Super Herb
500mg per capsule ■
60 capsules ■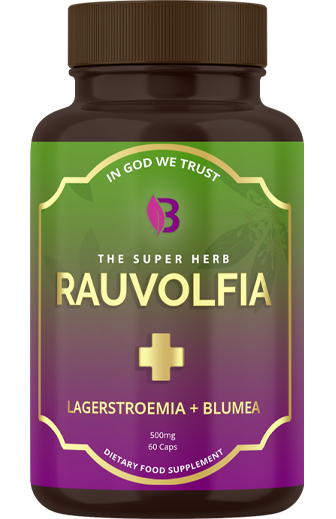 Benefits
■ Antioxidant
■ Anti-inflammatory
■ Antibacterial and Antifungal
■ Boosts your immune system
■ Helps Prevent Cancer
■ Helps Prevent Liver Disease
■ Helps in Maintaining blood sugar levels
■ Lowers bad cholesterol levels
■ Promotes Weight loss
■ Prevents Colds, coughs & hypertension
■ Hangover Relief & liver cleansing
■ Good for the eyes
■ Improves Heart Health
■ For glowing skin and lustrous hair


Rauvolfia is a genus of evergreen trees and shrub. It was named in honor of the German physician and botanist, Dr. Leonhard Rauwolf who was the first modern botanist to collect and describe the flora of the Near East.

Historically, Rauvolfia was used as an antidote to snake bite. From 1952 it has since been evaluated in western medicine as one of the most valuable drugs for treating high blood pressure.

Rauvolfia is best taken during the night or one (1) hour before bedtime due to its sedative and tranquilizing action.

The type of capsule used in Rauvolfia is vegetable capsule.

The typical dose of Rauvolfia is 600mg/day or one to two capsules a day.

It is best to give any food supplements to expecting mothers after the 1st trimester or at the 4th month of pregnancy.

Children below twelve (12) years old are advised not to take Rauvolfia without the doctor's consent.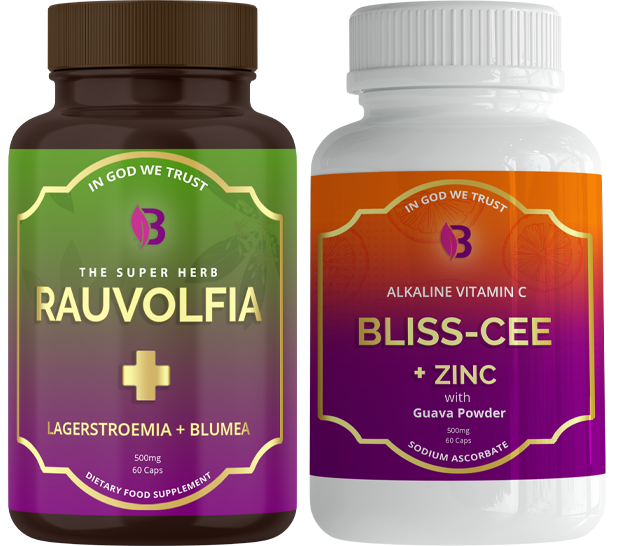 Our Product
Product showcase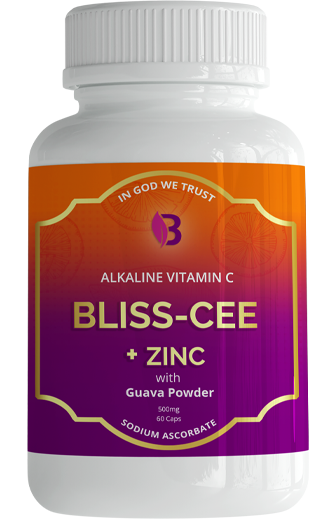 Product Info
Bliss-Cee + Zinc
BlIss-Cee also contains Zinc, and it is needed for DNA synthesis, immune function, metabolism, and growth. It reduces inflammation and risks some age-related diseases. BlIss- Cee assures the correct daily dose of Vitamin C and Zinc for increase body resistance and total enhance of immune system.
Make custom order
Our Expert are ready for 24/7
Testimonials
Client feedbacks
Nawala ang pananakit ng aking ulo at nagbalik ulit ang aking paningin. Actually, pumirma na ako ng HAMA (Home Against Medical Advice) kasi naniniwala ako na ang Dios ang nagpapagaling sa akin sa tulong ng RAUVOLFIA PLUS. Ang mga taga Barangay nga namin hindi talaga sila makapaniwala na nakakita ako ulit. At ngayon sa awa ng Dios sa pamamagitan ng RAUVOLFIA PLUS, ang buhay ay maganda at maginhawa. Sa RAUVOLFIA PLUS, may GALING NA IBANG-IBA.

Nagpakonsulta ako sa aming family doctor at nalaman ko na tumaas aking uric acid at yun ang dahilan ng gout arthritis ko. Ngayon bumalik ang aking liksi at gumanda ang pakiramdam ko. Bumalik na rin sa normal ang BP ko and especially nawala na ang aking arthritis. Ito ang dahilan kung bakit gumaling at gumanda ang pakiramdam. RAUVOLFIA PLUS. WALANG IBA TALAGA!

Naniniwala ako na ang Dios ang nagbibigay kagalingan at pangalawa sa pamamagitan ng RAUVOLFIA PLUS. Di talaga ako makapaniwalang gumaling ako sa RAUVOLFIA PLUS, sa kadahilanang ang dami kong gamot na dala dala galing pa ng Canada pero di man lang ako nakaranas ng ginhawa. At ngayon, sa awa ng Dios at sa tulong ng RAUVOLFIA PLUS,goodbye na sa mga kati-kati at goodbye sa diabetes ko.

BACKGROUND
Bliss Manufacturing Corporation, established as a corporation In 2021, is duly registered with the Securities and Exchange Commission (SEC) as a manufacturing company on September 16, 2021. It's main office is located in Digos City, Province of Davao del Sur. It caters natural food supplements and cosmetics with the aim of providing its clients with the best quality products. BlissMCorp's present array of products includes The Super Herb Rauvolfia Plus, Bliss Cee Sodium Ascorbate with Zinc, Bliss Herbal Coffee with Inulin, Bliss Soothing Oil, Bliss Therapeutic Balm and branded inspired perfumes for women, men and unisex.
The Company is committed to fulfill our corporate and social responsibilities including enhancing awareness of and conformity with business ethics. Our aim is to be a reliable and trustworthy company in society.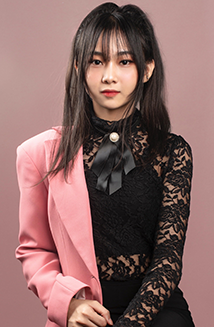 VISION
■ To produce an affordable product without compromising its quality for all Filipinos.
■ To provide a platform where anyone can join and believe that everything is still possible in this life.
MISSION
■ To reach out every households in Luzon, Visayas and Mindanao with BLISS products.
■ To train everyone who believes the value of entrepreneurship and good business ethics.
OUR VALUES
Better products and services
Life building commitment
Integrity and never compromise
Serve and not to be served
Share the blessings